(website last updated 1/20/22)
WELCOME TO CAMERADO POST 10165, VFW
On this page of our website you will find news of our most recent events, announcements of upcoming events, our meeting and breakfast times and places, etc. Check out the "About" and "Photos" pages for more information about our Post. The "Calendar" page is now up and running; if you have anything to add to the calendar, all or email Dave Sauvé, our Post Adjutant and website administrator.
* * *
Check out the "Communications" page for current messages from our Post Commander, Adjutant and Service Officer...check out the links at the bottom of this page for the Veterans Memorial Building calendar, VFW national HQs and EDC Veterans Affairs!
* * *
Any member who is not on our email list and wishes to be added to the list please contact Adjutant Dave Sauvé at (530) 622-2564 or at our Post email address: vfw10165@yahoo.com
* * * *
Our next monthly meeting is scheduled for Tuesday, February 1st, 2022. Social hour starts at 5:00 PM in the lounge at the Veterans Memorial Building, the business meeting starts at 6:00 PM.
* * * *
Our next "Second Sunday Community Breakfast" is coming up on Sunday, February 13th, 2022. We had a decent turnout for the January 9th, 2022 breakfast - 110 served. Thanks to all who pitched in! Our breakfast service starts at 7:00 AM. Additional help is always welcome in the kitchen, starting about 5:30 AM. Contact Len Squier IV to volunteer..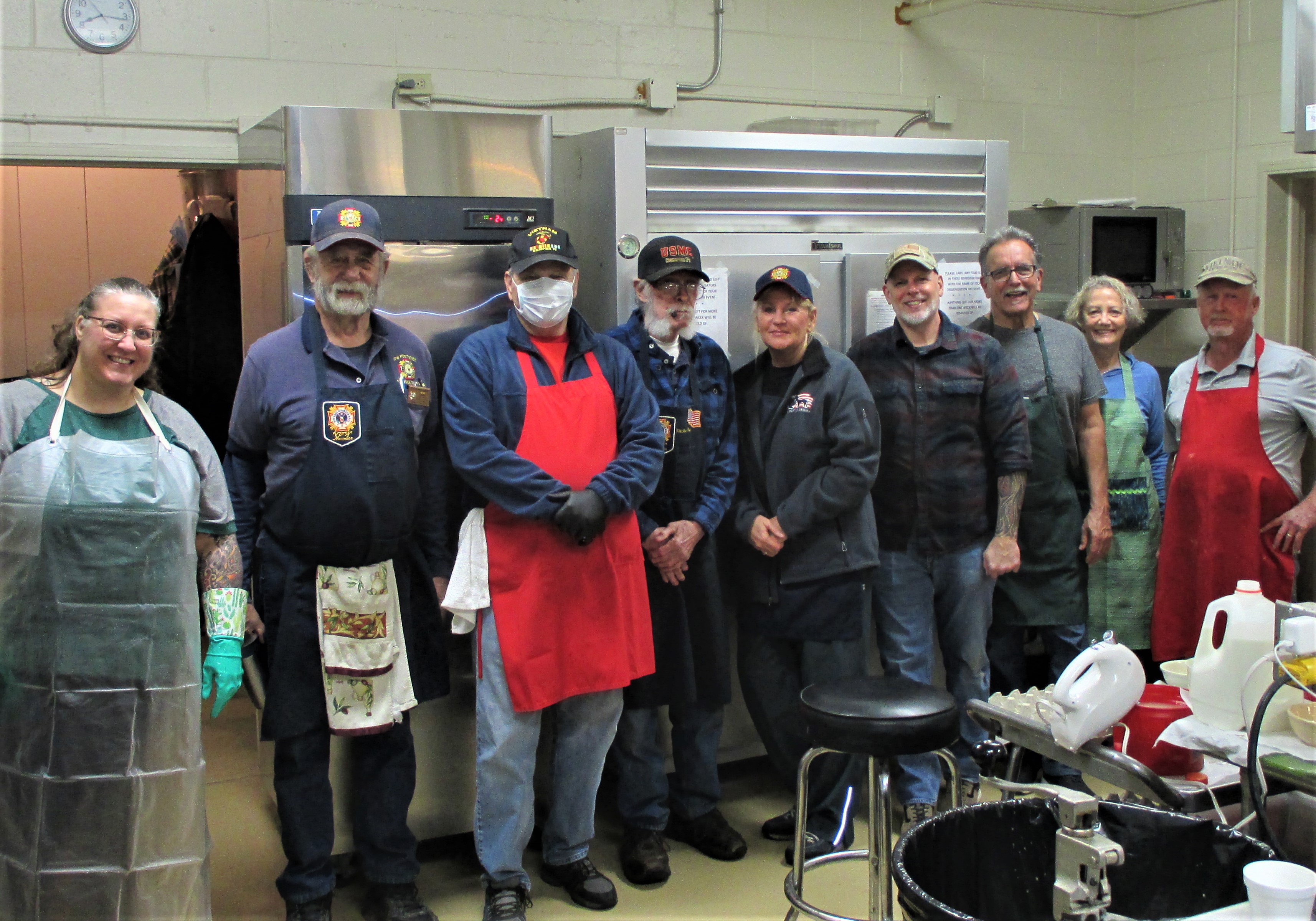 Our wonderful kitchen crew at the 1/9/22 "Second Sunday Community Breakfast" - L to R - Diswhwasher extrordinaire QM Amber Squier, Expert egg-cracker Trustee Rich Heller, Dishwasher/Rover PPC Bob Kinzel, ham and sausage guy PPC Dennis Haas, Gravy Girl and steamline assistant Lauralee Flannery, Kitchen Commander Post Surgeon Len Squier IV, Egg Chef Supreme Victor Mansfield, Steam Line Queen Cathy Kinzel and Pancake/Hash Browns Expert Bill Vannoy.
Senior Vice Commander Veronica Salter (first day on the "steam line) and husband John (a big help in the dining room bussing and clearing dishes) at our successful November 14th "Second Sunday Community Breakfast" in the Veterans Memorial Building kitchen.
* * * * * * *
Post Adjutant Dave Sauvé presenting our $2,500 donation check to Sue Alverson, Development Director at the VFW National Home for Children in Eaton Rapids, MI on 9/10/21
* * * * *

Our Post 10165 well represented at the dedication ceremony for the "Blue Star Memorial Byway" plaque at the EDC Veterans Memorial Building. L to R - Service Officer Jim Goodspeed, Buddy Poppy Chairman and Post Judge Advocate Victor Mansfield, PPC Bob Kinzel, SVC Veronca Salter, Commander "Mac" McAdams, Adjutant Dave Sauvé and Steve Blackstock.
* * * *
MONTHLY MEETING NOTES FROM 1/4/22
Commander McAdams opened the meeting at 6:05 PM with 20 members and 2 guests in attendance. All officers were present except for SVC Veronica Salter (recovering and rehabbing from knee surgery) and Judge Advocate Victor Mansfield. Both excused.
Commander McAdams announced that we had received another grant from the Colonel Renee Rubin Foundation and noted that we need to make more charitable donations to get our treasury balance down below our bond limit. This will be addressed under new business.
The minutes of the 11/2/21 meeting, notes from the 12/7/21 Christmas party/dinner and the Treasurer's report were all approved as reported (QM report subject to audit. Service Officer Jim Goodspeed reported on the 11 members he had made welfare checks on during the recent blizzard and detailed his assistance to local veterans and non-vets with snow removal, firewood and gas for generators. He also was able to secure donations of fruit and vegatables to help out Chef Leo's "Feed Our Vets" program.
The only comrade ill or in distress is the aforementioned SVC Salter. She contacted the Adjutant berore the meeting and sent greetings to all and said that she would be at the next meeting. There were no committee reports. Chaplain Shepherd remembered the National Home for Children at 6:22 PM. There was no unfinished business tendered.
Under new business, Commander McAdams proposed that part of the new grant funds be used to purchase more of the military insignia bracelets that had proved so popular during Buddy Poppy fundraising and at our breadfasts. The new bracelets would include our VFW Post 10165 logo. SO Goodspeed moved to make another donation to the VFW National Home for Children and Trustee Paul Denny moved to make a donation to the Sierra College veterans center in Rocklin. All of these motions were seconded and passed unanimously.
Under Good of the Order, Adjutant Sauvé read several thank you letters regarding our recent holiday season donations to local causes and mentioned that our member Yunju Wu had another baby on 12/23/21 and was looking for a three-seater van to purchase. If anyone has a line on one, give Adjutant Sauvé a call and he will pass it on.
Chaplain Shepherd read the closing prayer at 6:36 PM and Commander McAdams adjourned the meeting at 6:39 PM. Adjutant Sauvé won the 50/50 attendance drawing. Next meeting is February 1st.
Respectfully submitted - Dave Sauvé, Adjutant