(website last updated 6/13/22)
WELCOME TO CAMERADO POST 10165, VFW
On this page of our website you will find news of our most recent events, announcements of upcoming events, our meeting and breakfast times and places, etc. Check out the "About" and "Photos" pages for more information about our Post. The "Calendar" page is now up and running; if you have anything to add to the calendar, all or email Dave Sauvé, our Post Adjutant and website administrator.
* * *
Check out the "Communications" page for current messages from our Post Commander, Adjutant and Service Officer...check out the links at the bottom of this page for the Veterans Memorial Building calendar, VFW national HQs and EDC Veterans Affairs!
* * *
Any member who is not on our email list and wishes to be added to the list please contact Adjutant Dave Sauvé at (530) 622-2564 or at our Post email address: vfw10165@yahoo.com
* * * *
Our next monthly meeting is scheduled for Tuesday, July 5th, 2022. Social hour starts at 5:00 PM in the lounge at the Veterans Memorial Building, the business meeting starts at 6:00 PM.
* * * *
Our next "Second Sunday Community Breakfast" is coming up next on Sunday, July 10th, 2022. We had a decent turnout for the May 8th, 2022 breakfast - 110 adults and 18 children served. Thanks to all who pitched in! Our breakfast service starts at 7:00 AM. Additional help is always welcome in the kitchen, starting about 5:30 AM. Contact Len Squier IV to volunteer..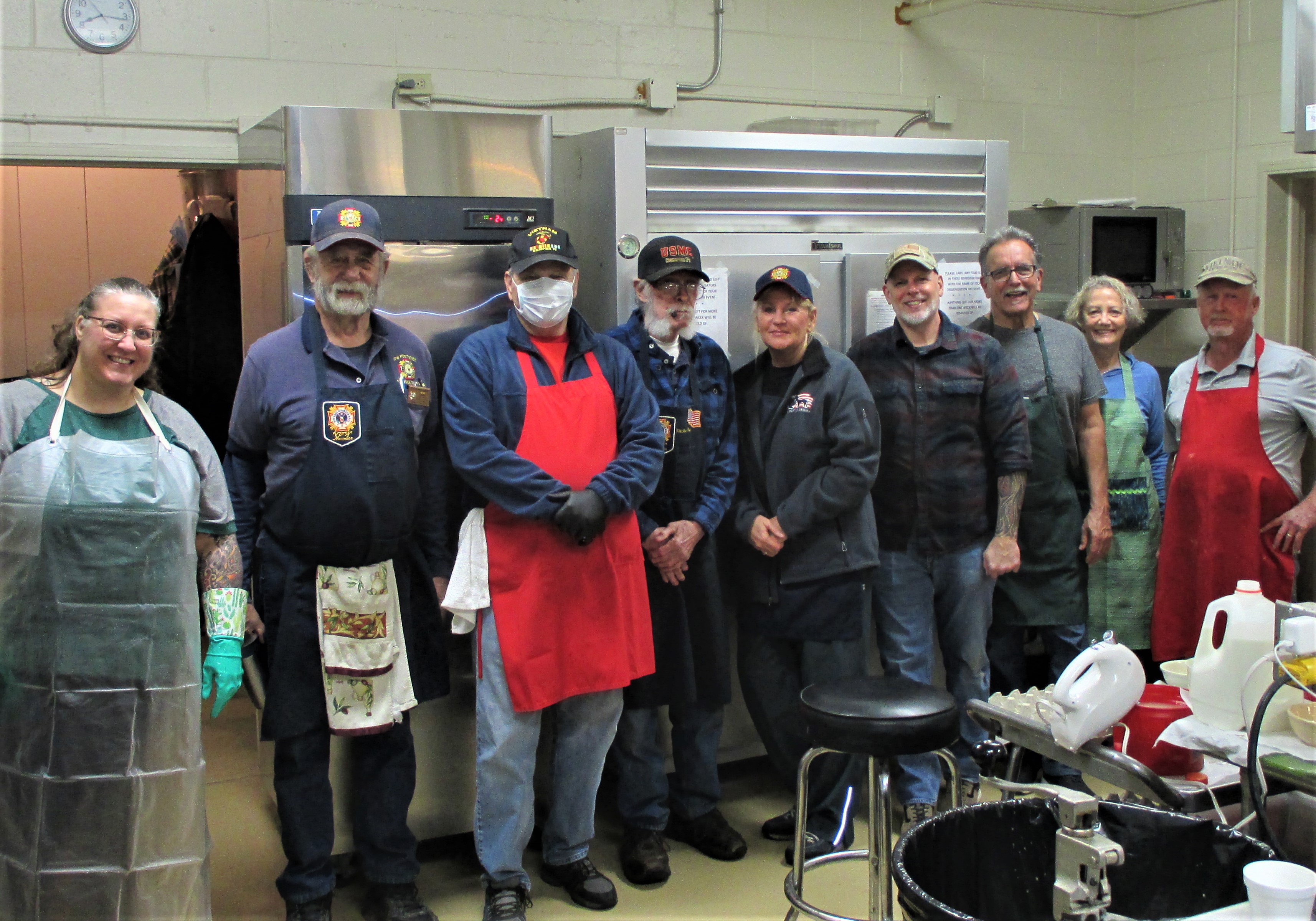 Our wonderful kitchen crew at the 1/9/22 "Second Sunday Community Breakfast" - L to R - Diswhwasher extrordinaire QM Amber Squier, Expert egg-cracker Trustee Rich Heller, Dishwasher/Rover PPC Bob Kinzel, ham and sausage guy PPC Dennis Haas, Gravy Girl and steamline assistant Lauralee Flannery, Kitchen Commander Post Surgeon Len Squier IV, Egg Chef Supreme Victor Mansfield, Steam Line Queen Cathy Kinzel and Pancake/Hash Browns Expert Bill Vannoy.
Senior Vice Commander Veronica Salter (first day on the "steam line) and husband John (a big help in the dining room bussing and clearing dishes) at our successful November 14th "Second Sunday Community Breakfast" in the Veterans Memorial Building kitchen.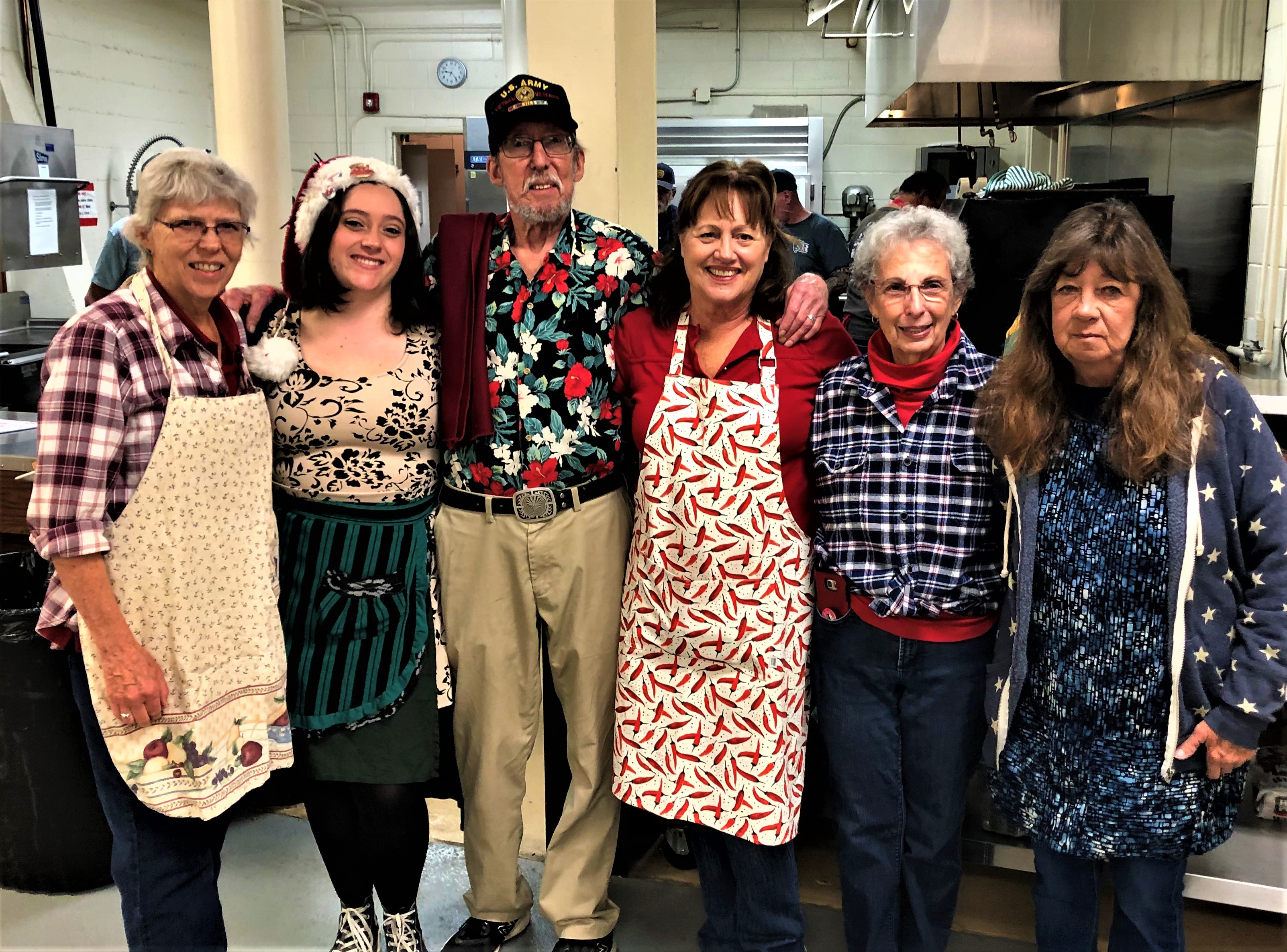 The "Second Sunday Community Breakfast" dining room crew...Left to Right, Julie Sauvé. coffee & juice table; Emily Owens, server; Dave Sauvé, dining room orderly (bus boy); Hiede Poole, assistant DRO; Lauralee Baxter and Sue Young, servers.
* * * * *
* * * * * * *
Post Adjutant Dave Sauvé presenting our $2,500 donation check to Sue Alverson, Development Director at the VFW National Home for Children in Eaton Rapids, MI on 9/10/21
* * * * *

Our Post 10165 well represented at the dedication ceremony for the "Blue Star Memorial Byway" plaque at the EDC Veterans Memorial Building. L to R - Service Officer Jim Goodspeed, Buddy Poppy Chairman and Post Judge Advocate Victor Mansfield, PPC Bob Kinzel, SVC Veronca Salter, Commander "Mac" McAdams, Adjutant Dave Sauvé and Steve Blackstock.
* * * *
MONTHLY MEETING NOTES FROM 6/7/22
Commander McAdams opened the meeting at 6:03 PM with 16 members and 2 guests in attendance. All officers were present except for Officer of the Day Johnson, Chaplain Zajec, and Service Officer Jim Goodspeed, all excused. Steve Blackstock filled in as Chaplain.
The minutes of the 5/5/22 meeting and the Treasurer's report were both approved as reported (QM report subject to audit).
Service Officer Jim Goodspeed was absent, so no SO report.
The only comrade noted as ill or in distress was former Chaplain Shepherd, in hospice care at home but doing as well as can be expected. Visitors and calls are welcome.
. Committee reports: Buddy Poppy Chairman Victor Mansfield gave us an 'after action report' on our successful Memorial Day weekend fundraiser and passed around a sign-up sheet for parking lot fundraiser duty during the upcoming (6/16 - 6/19/22) EDC County fair. Steve Blackstock remembered the National Home for Children at 6:11 PM.
Under unfinished business Dick Akin passed out information explaining the responsibilities of the Post membership and officers regarding ceremonies at the EDC Veterans Monument. He also mentioned that we need help and commitment to maintenance regarding our ceremonial rifles.
New business: Trustee-elect Bob Kinzel moved to make a donation to EDCR/MFSG for help restock their veterans free pantry. Adjutant Sauvé seconded and the motion passed uninaimously. Commander McAdams gave us some information regarding a change in VA benefits rules for spouses of 100% disabled and retired veterans.
Under Good of the Order, Adjutant Sauvé asked for a show of hands to staff the kitchen and dining room for the upcoming 5/8/22 Sunday breakfast and got satisfactory results. He also thanked Steve Blackstock and Trustees Heller and Kinzel for their help in installing 240 flags and 195 crosses at 10 local Western slope cemeteries for Memorial Day. Dick Akin brought up the lack of a VA Advocate for American Legion Post 119. He answered several questions regarding this issue.
Steve Blackstock recited a closing blessing at 6:30 PM and Commander McAdams adjourned the meeting at 6:33 PM with a final flag salute. Lauraalee Flannery won the 50/50 attendance drawing. Next meeting is July 5th.
Respectfully submitted - Dave Sauvé, Adjutant